---
Boston, MA, November 7, 2018 – Cognii has been awarded a National Science Foundation (NSF) Small Business Innovation Research (SBIR) Phase II grant for $750,000 to conduct research and development (R&D) work and commercialization of its innovative Artificial Intelligence powered scalable educational technology. 
"The National Science Foundation supports small businesses with the most innovative, cutting-edge ideas that have the potential to become great commercial successes and make huge societal impacts," said Barry Johnson, Director of Division of Industrial Innovation and Partnerships at NSF. "We hope that this seed funding will spark solutions to some of the most important challenges of our time across all areas of science and technology."
"We are excited to be selected for the NSF SBIR Phase II grant award. It will allow us to expand on the successful Phase I research on the Cognii Virtual Learning Assistant technology for scalable high quality education," said Dee Kanejiya, Founder and CEO of Cognii, Inc. "We are looking forward to partnering with the education industry to carry out the research, development, and commercialization as part of this project."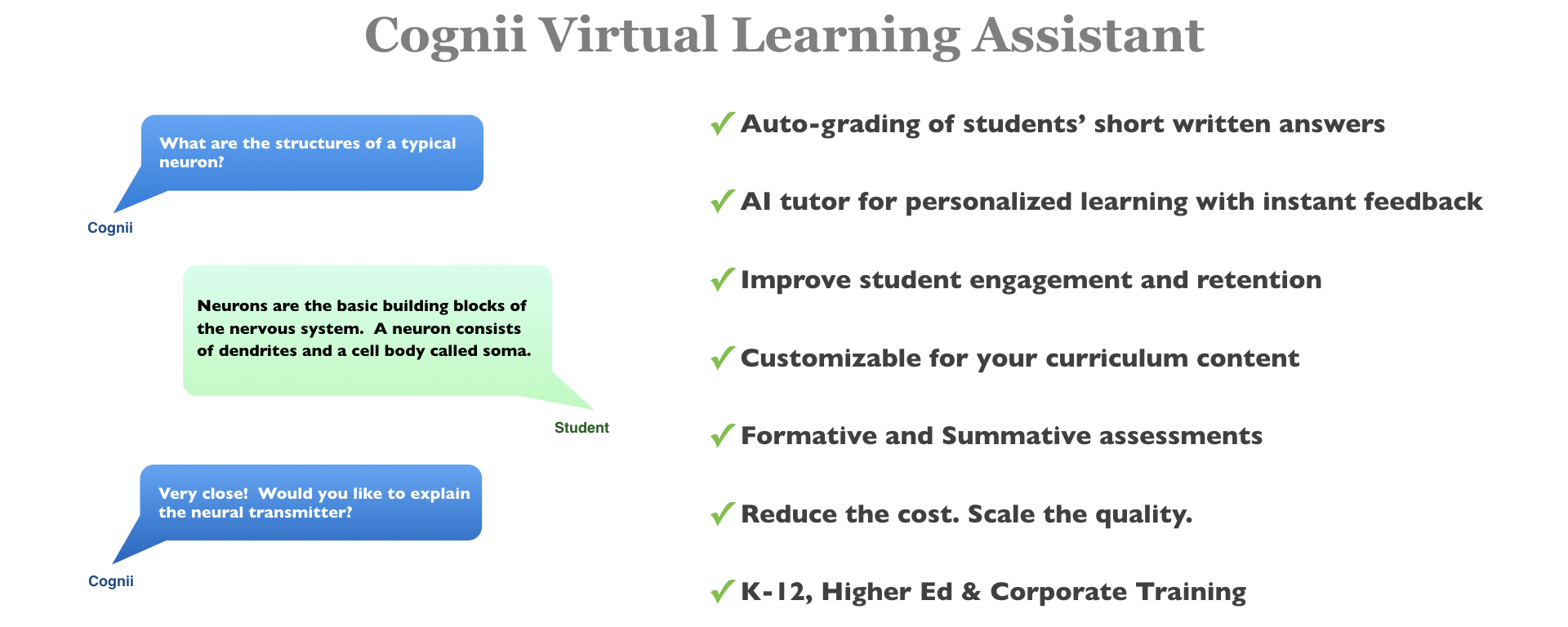 Cognii's multiple-award winning Virtual Learning Assistant technology uses natural language processing and AI to provide personalized tutoring to students with instant automatic grading of their open-response (short essay) answers. It has been successfully pilot tested across the K-12 and higher education environments by a number of leading schools and universities. Due to its uniquely innovative technology that offers significant cost savings while improving the students' learning outcomes and teachers' productivity, Cognii is recognized by a number of independent market research firms as a leading vendor in the rapidly growing AI market for the global education sector over the next five years. 
NSF encourages small businesses with innovative science and technology solutions, and commercial potential across almost all areas of technology to apply. All proposals submitted to the NSF SBIR program undergo a rigorous multi-stage merit-based review process and the most competitive proposals are selected for the grant awards.
About the National Science Foundation's Small Business Programs: America's Seed Fund powered by the National Science Foundation (NSF) awards nearly $200 million annually to startups and small businesses, transforming scientific discovery into products and services with commercial and societal impact. Startups working across almost all areas of science and technology can receive up to $1.5 million in non-dilutive funds to support research and development (R&D), helping de-risk technology for commercial success. America's Seed Fund is congressionally mandated through the Small Business Innovation Research (SBIR) program. The NSF is an independent federal agency with a budget of about $7.5 billion that supports fundamental research and education across all fields of science and engineering. To learn more about the NSF SBIR/STTR program, visit: https://seedfund.nsf.gov.
About Cognii, Inc: Cognii is a leading provider of Artificial Intelligence based educational technologies to the K-12, Higher Ed, and corporate training markets. Cognii's Virtual Learning Assistant engages students in an intelligent tutoring conversation while providing instant assessment of their open-response answers. Cognii improves students' learning outcomes and teachers' productivity with rich learning analytics, and helps organizations reduce the cost of delivering high-quality education at a large scale. Based in Boston, Mass., Cognii's mission is to improve the quality and affordability of education with the help of advanced technologies. Cognii is the winner of 2016 MassTLC EdTech Innovation of the Year Award and the 2015 Reimagine Education Best Learning Assessment Innovation of the Year Award. For more information, visit http://www.cognii.com  or contact at press@cognii.com